History
Are you a kilted living historian? Maybe you portray a World War I Canadian infrantryman. Or perhaps a World War II British officer.
If so, you know how hard it is to find a kilt that looks accurate, is made to spec and is actually durable enough to survive the average weekend event.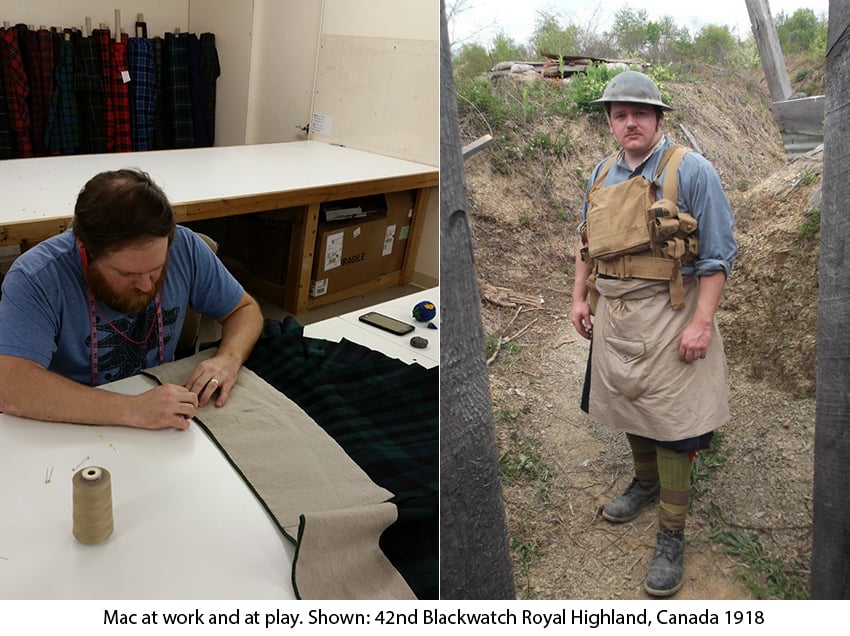 We learned about this problem through one of our senior kilt-makers, Dan "Mac" McMichael, who does WWI, WWII and other periods as well. Apparently, it's a common complaint that the right kilt for the job is hard to find, to say the least. And it may look alright using the 10-foot rule, but that doesn't mean it is right or that it won't fall apart. We picked Mac's brain for a bit more info...
What about wearing an actual surplus kilt?
"I've opened up packages with surplus kilts in them and the fumes from the formaldehyde will make you keel over, " Mac says. "Those things don't become surplus until they have been really beaten up. Or they have been in grandma's attic for sixty years and are full of holes. A lot of the time the threads and leather are rotted."
So who is making decent reproduction kilts?
"In my opinion, nobody. That's why Rocky and I discussed the idea of doing them. The ones I have seen are almost always felted wool-acryllic blend fabric. The pattern looks blurry. The overall quality of material and construction is not what I'd want. And I wouldn't want to get anything Arcrylic near fire!"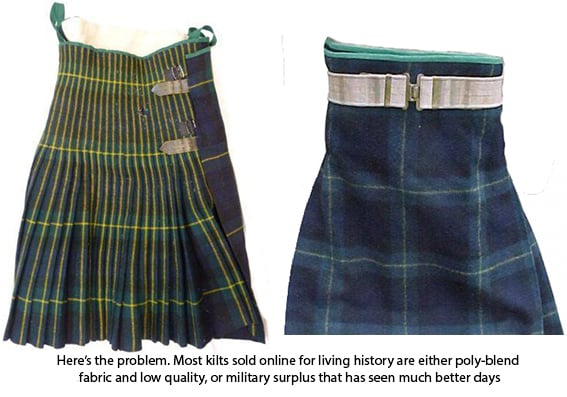 We asked Mac to spec out what makes a proper reenactment kilt. One thing led to another, and now we are making them on a custom basis. So, you can get a Reproduction Kilt made by a kilt maker who is also a long-time living historian.
Here are the specs on our standard Reproduction Military Kilt:
Custom Fit with correct 4" Military Rise
Cloth: 16oz 100% Scottish Tartan Wool
Tartans: Cameron, Gordon, Blackwatch, MacKenzie, Royal Stewart, and more
Waist Band: 1 1/4" Twill Tape in military sage
Lining: Undyed Cotton or Linen (we prefer the linen as it holds up better)
Straps: 1 1/4" Leather straps with veg tan finish. NO hip strap (for accuracy)
Buckles: Chromed Steel
Loops: None (for accuracy)
Fringe on Apron: None (for accuracy)
Pleats: Knife Only (sorry, no box pleats) - We will pleat to the Sett or the Stripe of your choice
Production Time: 6-10 Weeks - 3 WEEK RUSH AVAILABLE for additional charge
Price: Approx. $600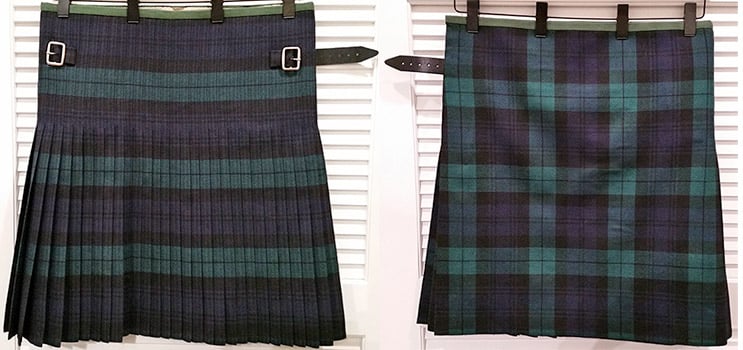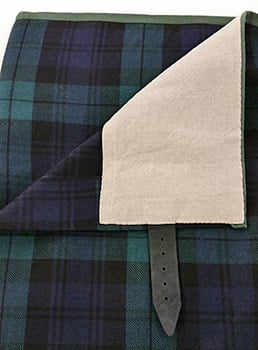 What else should renactors know when they order a military kilt from USA Kilts?
Mac points out, "The exact pleating and other details of a kilt could change based on the unit, manufacturer, time it was made, materials available -- all that. I have seen countless examples of kilts done for the same unit with different pleating. The best thing would be to provide us with a photograph of what you are hoping for as well as unit information, year, specs -- whatever you got. We will do our best to recreate a match. But remember -- a few details may be a bit different. Usually because we are making the kilt to be hard-wearing. "
PLEASE NOTE: These kilts are made custom to your measurements. As a result they are non-returnable. They cost a bit more than our regular 8-yard kilts, but we are trying to keep the cost down -- budget around $600. If you want to share this page with your unit and friends, we'd be grateful, but bear in mind this product will not appear for sale on our website -- it's just for you guys. So please share our email ( rocky@usakilts.com ) or phone number and order with us over the phone: 800-368-8633
By Eric M.
November 3, 2015
Veterans Day is an official United States federal holiday observed annually on November 11, honoring people who have served in our Armed Forces. Our holiday's roots lie in Armistice Day. Now known as Remembrance Day in the UK, Armistice Day commemorated the armistice signed between the Allies of World War I and Germany at Compiègne, France, for the cessation of hostilities on the Western Front; the "eleventh hour of the eleventh day of the eleventh month" of 1918.
Most countries changed the name of the holiday just prior to or after World War II, to honor veterans of that and subsequent conflicts. The United States officially changed to 'All Veterans Day' (later shortened to 'Veterans Day') in 1954. Veterans Day should never be confused with Memorial Day. Veterans Day celebrates the service of all U.S. military veterans, while Memorial Day specifically commemorates men and women who gave their lives in service.
THE LAST KILTS IN BATTLE
The beginnings of this most important holiday coincide, for the most part, with the end of the use of kilts on the battle field.
During the Great War, many regiments of the Commonwealth forces wore the kilt not only as a dress or garrison uniform element, but also in the field. Among these units, the most well known were the Royal Highlanders (Black Watch tartan), Cameron Highlanders (Cameron tartan), Gordon Highlanders (Gordon tartan), the Seaforth Highlanders (McKenzie tartan), and the Argyll and Sutherland Highlanders. Of the Territorial Forces, a few individual battalions of certain regiments wore kilts such as the 6th Battalion and 9th Battalions of the Highland Light Infantry and the 9th Battalion (The Dandy Ninth) of the Royal Scots. In addition other Regiments contained kilted battalions.
The London Regiment contained the famous London Scottish, 14th Battalion, which wore a Hodden Grey kilt (see photo).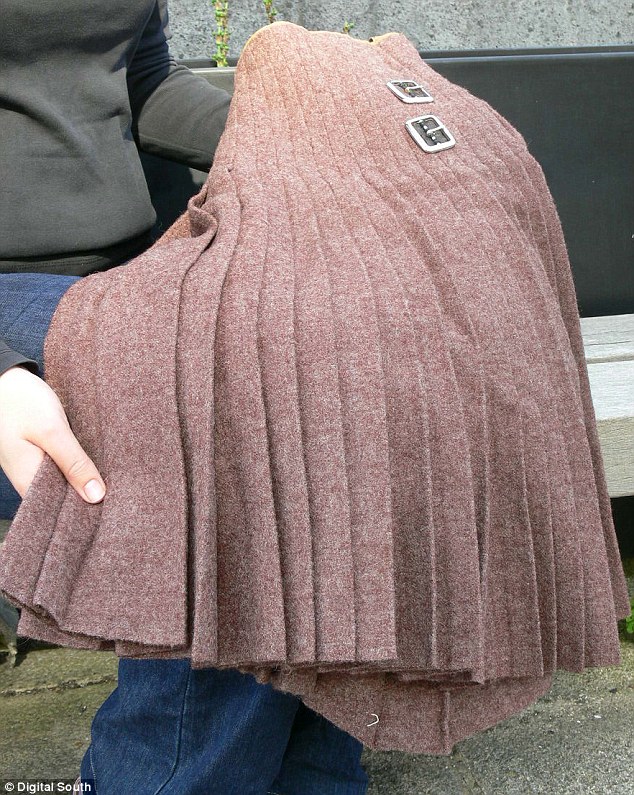 The practicality of the kilt in modern war was, even then, a matter of controversy. Did its effect on morale out-weigh its seeming impracticality? Most kilted troops were issued canvas kilt covers; apron-like garments which protected the kilt from mud. An odd thing to do if the kilt itself was up to the task. (see the photo of our own Dan McMichael in his Canadian WWI uniform). Many soldiers suffered for their kilts. A common experience was that when the bottom hem became damp and then froze in cold weather, the edge of the kilt would cut into the backs of the wearer's knees, even drawing blood. Many units in Canada were initially issued kilts, but switched over to trousers before going to the front.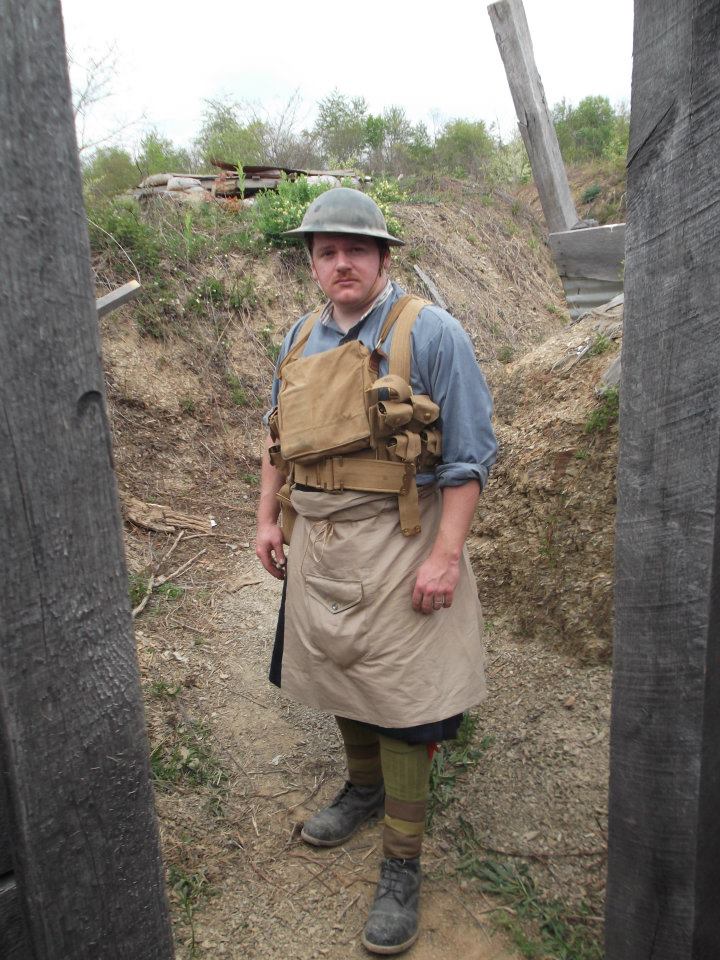 And yet one British officer, Lt/Col Norman MacLeod, specifically argued the opposite -- that kilts were better for a soldier's health, as well as easier to move in during combat. He felt that kilts prevented trench foot , provided better torso warmth (due to the thickness of the woolen layers worn very high on the body; the "military rise"), and helped a trooper stay dry in the trenches. He even thought it helped mitigate the effects of mustard gas, a skin inflammatory, by allowing air flow around the legs, dissipating the pooling gas. Finally, MacLeod pronounced, "With reference to morale, I believe that the association of the kilt with the great deeds of valour on the part of the Highland Regiments, inspires their members. I know of no inspiration to be got from trousers."
Indeed, kilts did seem to boost pride and in doing so, may have worked as a psychological weapon. Many pipe bands went kilted into the trenches. Most famously, the ferociousness of the Black Watch led to the Germans nicknaming them the "Ladies from Hell."
By the beginning of the Second World War, the kilt had lost its practical credibility. Highland regiments entered the conflict in kilts, but the garments were rapidly recognized as impractical for modern warfare. In the first year of the war, they were officially banned as combat dress. The kilt may have had its last major appearance during the evacuation of Dunkirk in May 1940.
However, we should also note the famous D-Day episode of Lord Lovat, commander of 1 Special Service Brigade, who came ashore at Normandy in 1944 accompanied by his personal piper Bill Millin, who wore a kilt and played the pipes while German bullets whizzed around him.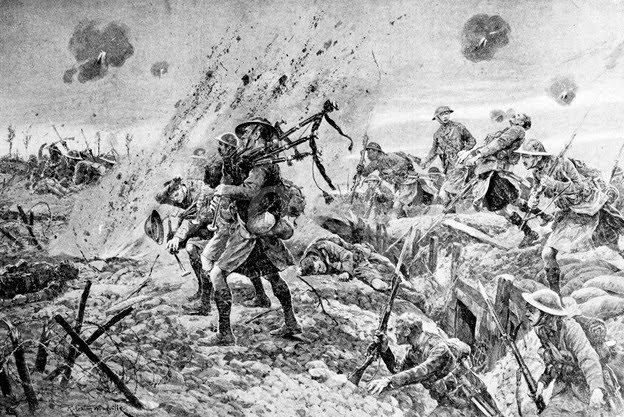 KILTS IN SERVICE TODAY
Kilts are still worn with pride today by many units of the British, Canadian and Australian armies. They are largely relegated to honor guard duty and dress occasions, but their impact on the martial spirit is as powerful as ever. Naturally, many military units across the globe support pipe bands. And of course, many veterans wear the kilt on their own time as a mark of pride both in their heritage and their service. In the USA, all five branches of the Armed Forces (Army, Navy, Marines, Air Force, and Coast Guard) have registered tartans. Of those, the only one to be "officially approved" by a branch of the military service is the US Coast Gaurd tartan (the others have been adopted through wont and usage).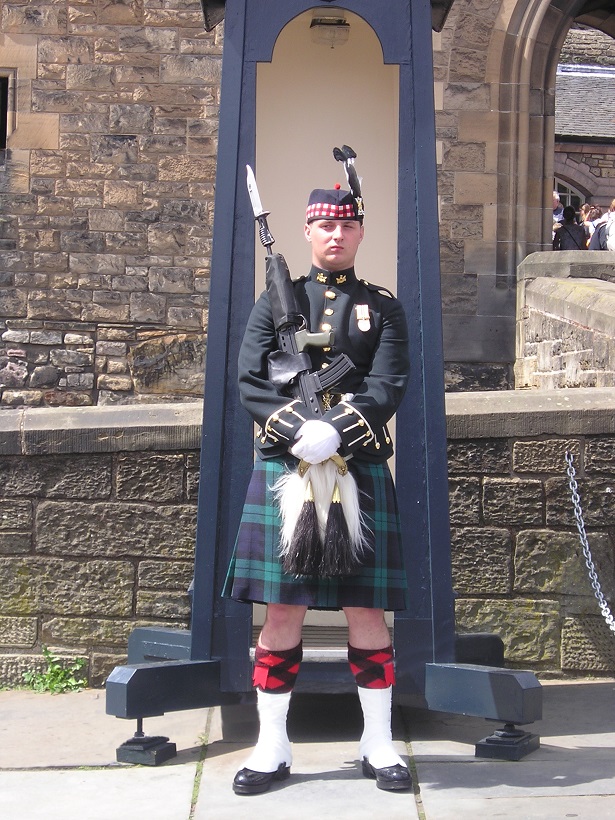 Though it is not as common as in the UK, some specific military units also have their own tartans, such as the U.S. Army Rangers. Tartans have also been designed and registered to commemorate important military events, such as the Federal and Confederate Memorial tartans which honor the deeds of Civil War combatants.
This Veterans Day, kilt up and thank a vet.
Veterans, please take note: USA Kilts offers a standard 10% discount to all Vets (with valid military ID) on all 'non sale' items. Please let us know if you have questions about military highland wear or service tartans. We thank you for your service.