Military Kilts for Living History
Are you a kilted living historian? Maybe you portray a World War I Canadian infrantryman. Or perhaps a World War II British officer.
If so, you know how hard it is to find a kilt that looks accurate, is made to spec and is actually durable enough to survive the average weekend event.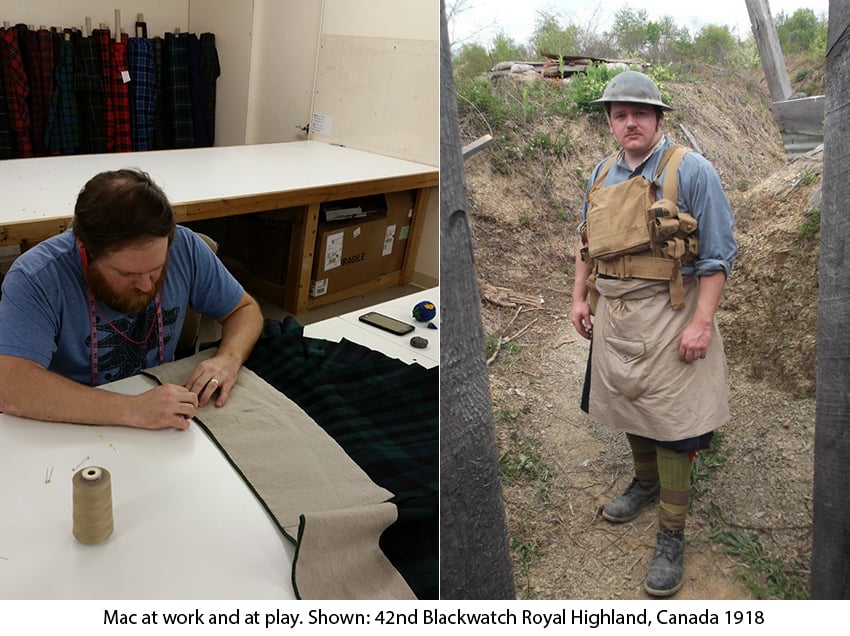 We learned about this problem through one of our senior kilt-makers, Dan "Mac" McMichael, who does WWI, WWII and other periods as well. Apparently, it's a common complaint that the right kilt for the job is hard to find, to say the least. And it may look alright using the 10-foot rule, but that doesn't mean it is right or that it won't fall apart. We picked Mac's brain for a bit more info...
What about wearing an actual surplus kilt?
"I've opened up packages with surplus kilts in them and the fumes from the formaldehyde will make you keel over, " Mac says. "Those things don't become surplus until they have been really beaten up. Or they have been in grandma's attic for sixty years and are full of holes. A lot of the time the threads and leather are rotted."
So who is making decent reproduction kilts?
"In my opinion, nobody. That's why Rocky and I discussed the idea of doing them. The ones I have seen are almost always felted wool-acryllic blend fabric. The pattern looks blurry. The overall quality of material and construction is not what I'd want. And I wouldn't want to get anything Arcrylic near fire!"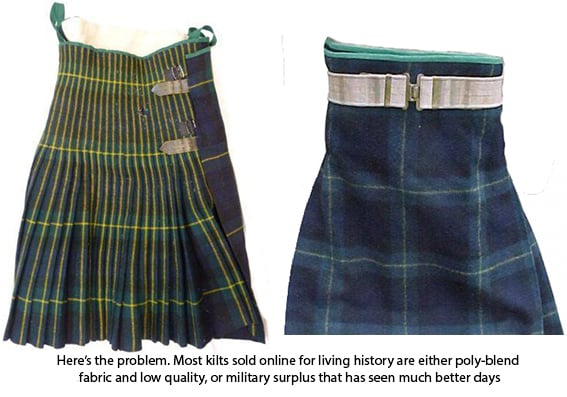 We asked Mac to spec out what makes a proper reenactment kilt. One thing led to another, and now we are making them on a custom basis. So, you can get a Reproduction Kilt made by a kilt maker who is also a long-time living historian.
Here are the specs on our standard Reproduction Military Kilt:
Custom Fit with correct 4" Military Rise
Cloth: 16oz 100% Scottish Tartan Wool
Tartans: Cameron, Gordon, Blackwatch, MacKenzie, Royal Stewart, and more
Waist Band: 1 1/4" Twill Tape in military sage
Lining: Undyed Cotton or Linen (we prefer the linen as it holds up better)
Straps: 1 1/4" Leather straps with veg tan finish. NO hip strap (for accuracy)
Buckles: Chromed Steel
Loops: None (for accuracy)
Fringe on Apron: None (for accuracy)
Pleats: Knife Only (sorry, no box pleats) - We will pleat to the Sett or the Stripe of your choice
Production Time: 6-10 Weeks - 3 WEEK RUSH AVAILABLE for additional charge
Price: Approx. $600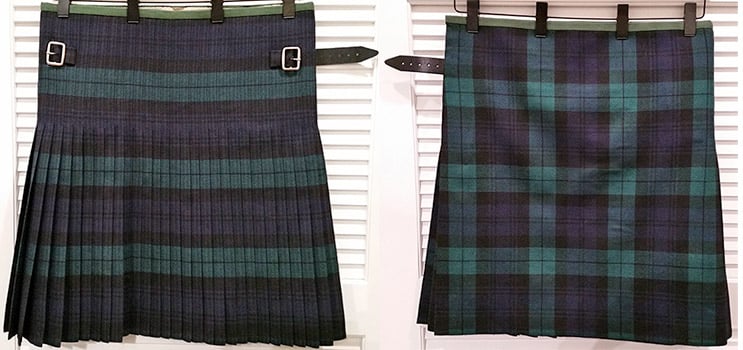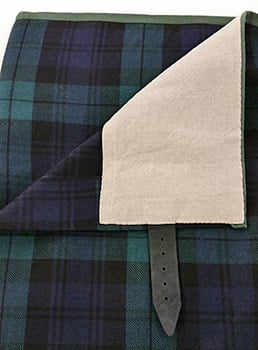 What else should renactors know when they order a military kilt from USA Kilts?
Mac points out, "The exact pleating and other details of a kilt could change based on the unit, manufacturer, time it was made, materials available -- all that. I have seen countless examples of kilts done for the same unit with different pleating. The best thing would be to provide us with a photograph of what you are hoping for as well as unit information, year, specs -- whatever you got. We will do our best to recreate a match. But remember -- a few details may be a bit different. Usually because we are making the kilt to be hard-wearing. "
PLEASE NOTE: These kilts are made custom to your measurements. As a result they are non-returnable. They cost a bit more than our regular 8-yard kilts, but we are trying to keep the cost down -- budget around $600. If you want to share this page with your unit and friends, we'd be grateful, but bear in mind this product will not appear for sale on our website -- it's just for you guys. So please share our email ( rocky@usakilts.com ) or phone number and order with us over the phone: 800-368-8633