January 2017
By Eric M.
January 11, 2017
January 25th marks the annual celebration of Scotland's national poet, Robert Burns (1759-1796). Tributes to the man and his art are held around the world on this night in the form of the 'Burns Supper'. The first recorded supper was held in 1801 around the anniversary of the Bard's death by a small group of friends and acquaintances. The suppers are now held annually on the date of his birth, January 25th.

Burns Suppers, theoretically, are meant to be informal with an air of rustic simplicity -- romantic ideals of Highland life which Burns extolled in his poetry. However, modern Burns Suppers vary in style and level of formality according to the hosting group's vision. They can be as simple as a party held at a local pub, or as formal as a black tie affair. Regardless, there are certain ritual elements which must be included to make it a true Burns Supper...
After the guests have gathered, the host will say a few words of introduction. After everyone is seated, the host or another speaker will recite the Lowland Scots 'Selkirk Grace', also known as the 'Galloway Grace' or the 'Covenanters' Grace':
Some hae meat and canna eat,
And some wad eat that want it;But we hae meat, and we can eat, Sae let the Lord be thankit.And sae the Lord be thankit

Burns is said to have delivered an extempore version in Standard English at a dinner given by the Earl of Selkirk on St. Mary's Isle:

Some have meat and cannot eat,
Some cannot eat that want it;But we have meat and we can eat, So let the Lord be thankit.
A starter of soup is then served; usually Scots broth or Cock-a-Leekie. The main event of the meal comes next: the Piping in of the Haggis. A large, piping-hot Haggis (called by Burns "the 'great chieftain o' the puddin'-race") is carried into the dining room on a tray with a bottle of whisky and glasses. A piper leads the procession playing 'A Man's A Man' or another Burns song. The haggis is set down before the host, who now recites Burns' famous 'Address to a Haggis'.
As he reaches the line of the poem, "His knife see rustic Labour dicht, An' cut you up wi' ready slicht", the host draws his Sgian Dubh and plunges it into the haggis, slicing it open from end to end in dramatic fashion. A whisky toast is then proposed to the haggis. Mashed potatoes (champit tatties) and turnips (bashed neeps) traditionally accompany the haggis.
After the meal is concluded, one of the guests delivers a speech commemorating Burns and proposes a toast to the great man, known as the "Immortal Memory." A second toast is made "to the lassies" in recognition of Burns' fondness for the fair sex. Oftentimes, a female guest will reply with a humorous toast "to the laddies."
After the speeches, there may be singing of songs by Burns. Some Suppers include Scottish country dancing and many dance clubs host Burns Suppers as an occasion to hold a cilidh. Whisky tastings are also popular.
At the very end of the evening, the guests will stand together to sing Auld Lang Syne; the Burns song which has become an international anthem of camaraderie and has been translated into over thirty different languages.
Want to host your own Burns Supper?
It's not hard to do! Haggis, despite a lot of bad jokes here in the USA, is a very tasty dish you can make yourself (see the recipe below). You'll want to invest in a nice bottle of whisky and, naturally, a volume of Burns' poetry. Another nice touch is to play some of the music composed by the Bard. We recommend "The Complete Songs of Robert Burns, Vol. 1 & 2" available from various online sellers and including interpretations by a variety of accomplished Celtic musicians.

MAKE YOUR OWN HAGGIS

Here is a classic Haggis recipe you can make in a common casserole dish (no sheep's stomach required!)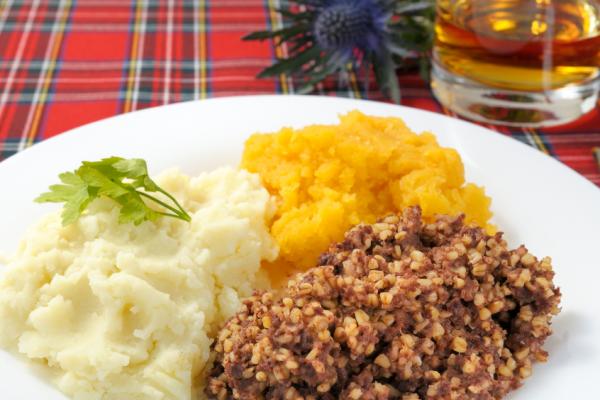 Ingredients:
18 oz ground lamb18 oz ground beef5 oz suet (beef or vegetable)4 oz oats1 1/4 cup stock (you can strain this from the boiled meat, or use a prepared beef stock)1 cup onions, finely chopped1/2 tsp grated nutmeg1/4 tsp ground mace1/2 tsp of cayenne pepper1/2 tsp ground coriandersea saltground black pepper
1. Preheat your oven to 320° F.
2. Cover the lamb & beef with water and bring to the boil in a large pot. Simmer for about 40 minutes and cool. Save the stock from the meat.
4. Roughly chop and toast the oats in a hot pan, shaking occasionally to make sure they don't burn.
5. Mix all the ingredients together with the stock and transfer to a well-greased casserole dish and cover with a layer of tin-foil.
6. Place in a water bath using a pan large enough to accommodate the dish and add boiling water around it. The water should come about 3/4 of the way up the side of the dish. Check this occasionally and top up the water level. Cook for about 2 1/2 hours and serve immediately with whisky sauce and mashed potatoes and turnips.
Traditional Whisky Sauce:
2 cups cream2 tsp wholegrain mustard1 tbls Dijon mustard2 tsp Irish whiskeysea saltground white pepper3 tbls chopped scallions

Heat the cream in a pan over a medium heat. Add mustards, scallions and whisky and whisk together. Increase heat until the mixture is simmering. Let simmer for 1-2 minutes until it thickens up a bit. Remove the pan from the heat and season with salt and pepper.