May 2017

The Centerpiece of Any Wedding Festivities Is the Cake, Naturally.
It's worth noting though that the modern American wedding cake is a far cry from the traditional Irish and Scottish wedding cakes of the past. However, the traditional form does live on and you can make it a part of your own special Celtic wedding. The most traditional celtic wedding cake is...wait for it….fruit cake. Yup. Fruit cake. Or at least a very nicely refined two- to three-tier version of it. We aren't talking about the candied fruit and citron disasters that appear in grocery stores around the holidays. No, this is a truly rich, aromatic and flavorful confection containing nutmeg, ginger, currants, candied cherries, almonds, citrus peel, molasses and more.
Fruit cakes have a long history as celebratory food in the British Isles. And enjoying one at a wedding was common throughout celtic and even non- celtic parts of the UK from the 18th century well up into the modern day. As usual, the Victorians were the ones who really took the concept over the top, but more on that in a moment.
A Symbol of Long Life and Happiness - and a Long-term Culinary Investment
The wedding cake would actually often be baked just after the couple's engagement. Such cakes were costly and difficult to make since the fruit and spices used were only available in limited supply and seasonally. But the making of this magical treat was a great way to kick off the long-term preparations for the wedding as well as the intended marriage. This is why properly made fruit cakes are soaked lovingly in rum, brandy or some other liquor -- it adds flavor and moistness and also preserves the cake. On personal note, I can tell you it works. I have enjoyed traditional fruit cake made by my wife some three or four years after she made it and it was still delicious, though a bit on the crumbly side. (goes well with Earl Grey or a smoked tea, BTW)
You may be familiar with the idea of saving some cake for your first anniversary or the christening of your first-born child. Well, nowadays we can do so with any cake thanks to freezing. However back in the day, only a well-made, and alcohol-preserved fruit cake would survive such a long period of time. This was part of the lore of such cakes. Their ability to last for months and years was symbolic of a long and sweet marriage and family.
Preparation and Serving
Fruit wedding cakes will usually have a buttercream frosting (almond is a classic flavor), though fondant is used now for visual effect just like on other wedding cakes. It's best to leave off the frosting on any portion of the cake you wish to preserve. Since fruitcake needs to cure in its brandy for at least several weeks before being served, plan accordingly with your baker. (See the recipe below!)
If you are not sure if your guests will be ready for an Irish fruit cake wedding cake, one option is to have just the top tier of the cake be a fruit cake. A bite of this can be shared by the bride and groom only, to bring good luck and honor the tradition. Or save the entire tier for the first anniversary or christening. Another option is to make a fruit cake as a Groom's Cake.
Cutting the Cake and Other Fun
It is highly traditional and romantic to cut the cake using the groom's dirk or Sgian Dubh. If you are Irish, you may also have fun with cake smashing -- it is traditional for the groom's mother to break a piece of the wedding cake over the bride's head after the ceremony. This trick ensures that she and the bride will get along well for life.

The Victorian Wedding Cake "Pull"
Now, remember those crazy Victorians I mentioned? Here is their addition to the Celtic wedding cake culture. This wedding tradition is a really fun way to give tokens of the occasion to your wedding party. Small jewelry charms were tied to satin or silk ribbons and hidden under the bottom layer of the wedding cake. The cake was then assembled and arranged so that the ribbons would hang down around the perimeter, often off the edge of the table. At some point prior to cutting the cake, the bridesmaids would be invited to each pull out a charm. Some of the traditional designs used were...
4-Leaf Clover ~ Good luck
Horseshoe ~ Prosperity & luck
Heart Lock ~ Faithful love
Key ~ The key to the heart
Wishbone ~ Wishes will come true
Magic Lamp ~ Dreams will come true
Dollar Tree ~ Financial security
Heart ~ Sincere love
Rocking Chair ~ Longevity
Wedding Bells ~ A joyous declaration
Anchor ~ Stability in life
Cross ~ Peace and tranquility
Chimney Sweep or Ladder and Brush ~ Good luck
Thistle ~ Scottish heritage
Celtic Knot ~ Celtic heritage and love's enduring promise
The Saltire ~ Scottish heritage
Claddagh ~ Irish heritage, friendship, love, & loyalty
Celtic Cross ~ Protection for the home
These charms were usually Sterling silver, but you could use all manner of items for a modern rendition. Cake Pull Charms are also available for sale online.

Bake Your Own Irish / Scottish Wedding Fruit Cake!
Doing a rustic or home wedding? Or don't trust a commercial baker to get the cake right? Here's a basic recipe you can use to make your very own Celtic wedding cake.
Cooking Time: 4 1/2-5 1/2 hours
Ingredients:
Currants 1 lb. 12 oz./800g.
Sultanas (Golden Raisins) 1lb./450g.
Raisins 9 oz./25 oz 250 g.
Sliced Almonds 7 oz./200g.
Glace Cherries 70z/200g.
Citrus Peel, cut, mixed 70z/200g.
Flour 1lb 3oz. 525 g.
Salt 1 teaspoon
Mixed Spices or Pumpkin Pie Spice Blend 2 1/2 tsp.
Butter 1lb.450g.
Dark Brown Sugar 1lb. 450g.
Black Strap Molasses 2 tbsp.
Orange and Lemon zest 1 1/2 tsp. each
Eggs 8 large
Vanilla 1 1/2 tsp.
Brandy 4 tbsp.
Preparation:
1. Grease a cake tin and line with three layers of parchment paper. Edges of paper should extend about 2" above the rim of the tin.
2. Tie a thick band of folded newspaper around the outside of the tin to protect cake edges from over-baking.
3. Sort your fruit, remove any stalks or irregular pieces.
4. Mix fruit with halved cherries, peel and a tablespoon or two of flour.
5. Sift flour, salt and spices.
6. Cream butter and sugar.
7. To the butter, add molasses, zests, and essences. Beat well.
8. Add the eggs, one by one with a tablespoon full of flour with each. Beat well. Fold in the fruit and remaining flour plus the brandy. Mix well.
9. Pour mixture into the prepared tin and smooth down with tablespoon making a slight hollow in the center.
10. You may leave the cake over night or till ready to bake.
11. Pre-heat oven to 300 degrees F., 150 degrees C. Bake cake in center of the oven for 1-1/2 hours.
12. Reduce heat to 275 degrees F, 140 degrees C, for the remaining baking time or until the top of cake feels firm to the touch and toothpick comes out clean and dry.
13. Watch cake as it bakes. If it looks like it might over-brown, cover with parchment paper.
14. Cool cooked cake in tin then remove paper and turn upside down onto a board. Make small holes into the cake with toothpicks or a fork and pour on some extra brandy.
15. When the brandy is absorbed, wrap the cake in double layer of grease-proof paper or cheese cloth (you can lightly soak the cheese cloth with brandy as well), then a layer of foil. Seal and store in airtight container and place in a cool place for at least a month. You should finish the cake about two weeks before the wedding.
16. Cover with butter cream icing, Irish Royal Icing or Fondant.

Happy Father's Day!
Lord grant that thou may aye inherit
Thy mither's person, grace, an' merit,
An' thy poor, worthless daddy's spirit,
Without his failins,
'Twill please me mair to see thee heir it,
Than stockit mailens.
For if thou be what I wad hae thee,
And tak the counsel I shall gie thee,
I'll never rue my trouble wi' thee,
The cost nor shame o't,
But be a loving father to thee,
And brag the name o't
~ from 'A Poet's Welcome To His Love Begotten Daughter', Robert Burns (1785)
What Do You Give The Kilted Dad Who Has Everything?
More kilts! No seriously...If your father is dedicated to Celtic heritage and Highland fashion, there are lots of easy accessories you can get him this year to help round out his wardrobe. And yes, that even includes neckties. The nice thing about highland wear is that it is highly collectible. We all love the look and there are lots of small bits and bobs that go into it. That means lots of us end up being collectors. So you don't have to worry about getting Dad something he already has.
USA Kilts Offers Celtic Father's Day Gifts for Every Budget!
Over the years, we have gotten a sense for the most popular options that make Dad happy. Here's a run-down of what our customers buy the most for the Old Man:
Neckties: A tartan neck tie is a go-to. We all have one in our closets. He may not wear it with his kilt, but let's face it sometimes you can't kilt up for every occasion, so at least this way he can show off the family colors. If he does want to wear it with a matching tartan kilt, we recommend wearing a vest or sweater vest as well to break up the pattern. The tie and kilt alone just look a bit off somehow. A solid color wool necktie is also a common accessory -- meant to be worn with the kilt and tone well with the colors of the tartan while not being too busy. if he's not a tie guy, check out our Irish Flat Caps and Tartan Scarves.

Cuff Links: It's been said that Americans don't wear cufflinks much, but we beg to differ. We sell a lot of these to go with formal kilted outfits as well as business wear or simply "Celtic Festival Nice". Maybe all our customers are hipsters...or more likely we Scots are just a classy bunch. Our most popular cuff-link set is the Square Celtic Knot -- goes with everything from a tweed jacket and vest to a Prince Charlie.

Pocket Watch: A classic heirloom quality gift. Our most popular design is the Knot and Thistle, but we also provide the Shamrock, Welsh Dragon, and Trinity Knot - all cast into hefty pewter cases for our mechanical pocket watches. Skeletal face and back so Dad can see the workings move!

Drinkin' Gear: We have it on good authority that no sporran is complete without a flask inside. In fact, we offer some especially designed to fit! Lots of great regular hip flasks as well, natch. If you're staying home to celebrate Father's Day, a bottle of his favorite Scotch whisky served in genuine Glencairn tasting glasses is a fine gift.
Sgian Dubh: Not just for threatening door-to-door solicitors anymore! Our top sellers are the custom Clan Crest Jewel Sgian Dubh and Clan Crest Officer's Sgian Dubh. Our Damascus blade sgian is also very popular -- drool-worthy if he is a knife guy.

A New Sporran? If he's been an especially good Dad, sure! This is the creme-de-la-creme of Scottish Father's Day gifts. Most men have at least two -- one for every day, and one for special occasions. And again, they are something guys love to collect. Popular choices include our Celtic Knot (only $60!), our Simple Pin Sporran and our new Laser Etch Clan Crest Sporran. This last one is sure to be a unique part of his collection and get him lots of attention!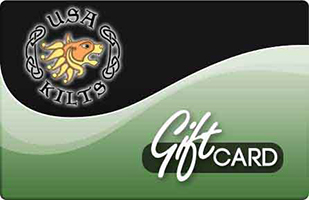 The Gift Card of Freedom!: Dad is a pain in the arse to shop for, you say? Too many choices? The whole family wants to chip in and get him something extra special? USA Kilts Gift Card to the rescue! As a matter of fact, we sell a lot of these and the giftee is always thrilled to go on a personal shopping spree with no guilt attached. Plus, it's instantly in your e-mail so it's perfect for last-minute gifting!
Love and Affection: Sappy sentiment is as Scottish as Robert Burns, so whatever you give Dad on this special day, be sure to shower him with love too. That could mean hugs or a strong, fast punch to the bicep. You know how Celts are. Happy Father's Day!