November 2017
DECEMBER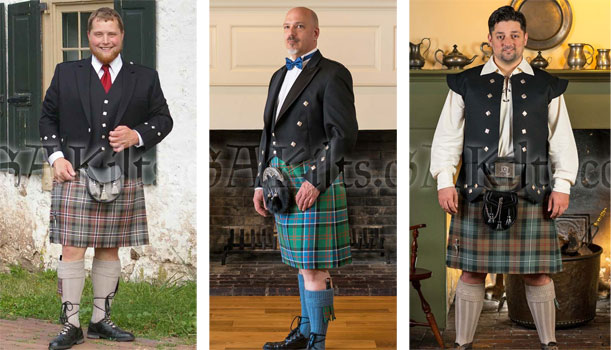 Kilt Up for the Whole Month!
Suffice to say, you can certainly wear your finest Celtic highland wear to any number of festivities this time of year -- from office holiday parties and family gatherings to religious observances and New Year's.
A good many of our customers use the Holidays as a "pull the trigger" reason to get a complete Prince Charlie or Argyll package, or to spruce up their gear with a new sporran or other accessories. And if you'd like to give celtic gifts for Christmas, Channukah or Yule, we'd certainly appreciate it!
Here are some of the best days for kilts in December...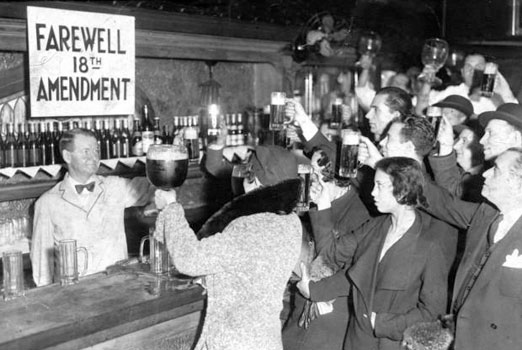 Repeal Day - Dec. 5
Fancy a wee dram of whisky or a pint of stout? Then throw on your best drinking kilt and raise your glass today! Repeal Day commemorates the end of Prohibition.
As you probably know, the 18th Amendment, which went into effect on January 16, 1919, restricted the legal manufacture, transportation, sale and consumption of alcoholic beverages. Prohibition was brought about by a popular movement led by the American Christian Women's Temperance Union. They had good intentions -- to end crime, illness and domestic abuse caused by alcoholism. However, legislating morality backfired severely as amateur bootleggers, home distillers and eventually big-time organized crime got into the the booze racket. It was the age of the speak-easy and bathtub gin.
After the stock market crash of 1929, booze crime became even more difficult to stop and the 18th amendment became more and more unpopular and virtually impossible to enforce. In 1933, Congress passed the 21st Amendment, which essentially repealed the 18th. On December 5, 1933, Utah voted its approval which achieved the 3/4 state majority needed for the law.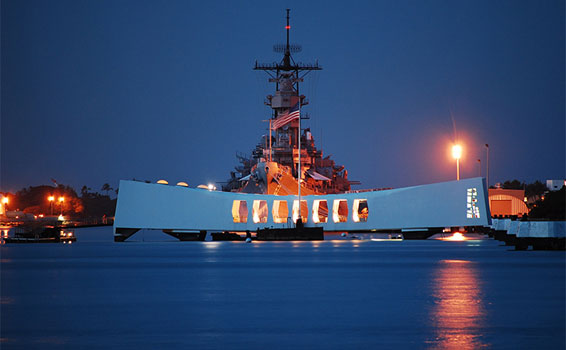 Pearl Harbor Day - Dec. 7
On December 8, 1941 President Franklin D. Roosevelt famously called December seventh "..a day that will live in infamy".
Of course he was referring to the aerial attack on the U.S. Naval base at Pearl Harbor, Hawaii, by the Empire of Japan. The attack began at dawn and crippled the U.S. Pacific Fleet. Over 2,400 American servicemen and 68 civilians were killed. Five of the eight battleships in port were sunk or sinking, and virtually all ships were damaged. However, the Japanese attack was a failure. The all-important American aircraft carriers were not in port, and the attack steeled American resolve to fight and win the Second World War.
On Pearl Harbor Remembrance Day, U.S. flags are to be flown at half staff. Some communities still mark the day with public events. Whether yours does or not, this is a good day to thank members of "the greatest generation" for their service and sacrifices.





Chanukah - Date Varies
Chanukah, the Jewish Festival of Lights (also spelled Chanuka and Hanukkah), celebrates victory and freedom from religious persecution (hey, that sounds Scottish!).
In the year 167 B.C., a group of fighters known as the Maccabees finally drove off the Greek occupiers of Jerusalem. In order to rededicate the holy temple after the fighting, it was necessary to relight the great Menorah. However, the Maccabees found only one small jar of oil -- enough to keep the Menorah lit for a day. When the oil lasted a full eight days, it was declared a miracle and the event has been celebrated ever since.
Chanukah is a happy and joyous occasion for Jews around the world, including Scotland. Many Jewish families trace their history back to the 17th and 18th centuries. The earliest official Jewish congregation in Edinburgh was founded in 1817. As a land dedicated to personal freedom, Scotland held certain advantages over neighboring England, such as the fact that university students were not required to swear a religious oath. Scottish cities, especially Glasgow, became refuges for Jews escaping persecution in the Russian empire. By the early 20th century, you could find men in the Highlands who spoke Scots English, Yiddish and Gaelic!

Many people of Jewish and Celtic descent, enjoy wearing the Davidson tartan (making reference to Malkhut Beit David (מלכות בית דוד) the "House of David"). The St. Andrews and Clark Ancient tartans are also popular Jewish kilt options since the blue and white colors are reminiscent of the tekhelet indigo color used in the tallit (prayer shawl).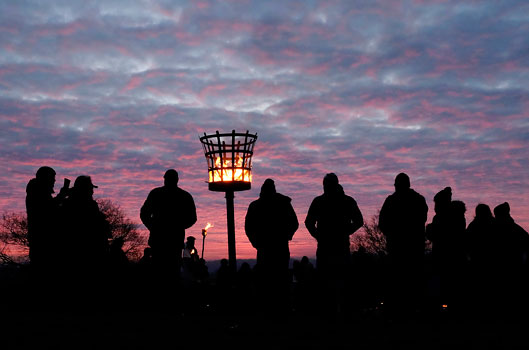 Winter Solstice - Dec. 21 or 22
The Winter Solstice, the shortest day of the year, marks the beginning of winter in the northern hemisphere. In fact the sun never even rises at the North Pole.
For thousands of years, the Winter Solstice has been a time of feasting and celebration, particularly in Norse and Germanic lands (including Viking-contacted areas of Scotland and Ireland). The ancients would celebrate the return of the sun and the promise of new life in the coming year. The Norse name for this holiday, Yule (or Jul) is retained in the Anglo-Saxon and English word "Yuletide."
Many folk customs of Yule were long ago incorporated into Christmas celebrations. For example, feasting (including a pork dish), "Wassailing" (going door-to-door singing songs in exchange for drink and food), gift giving, the burning of the yule log and decorating with evergreens such a wreaths (a symbol of the circle of the year).
Many Pagans of different traditions celebrate the holiday today. And many civic groups hold secular celebrations such as concerts, fairs and bonfire parties.


Christmas Day - Dec 25
Of course, Celtic folk like to kilt up for Christmas -- whether it is to go to church to celebrate the birth of the Christian savior, or to attend a secular Christmas party. Oddly enough, Christmas was not a big holiday in Scotland until very recently. The real Scottish winter celebration is Hogmanay, which we'll discuss below.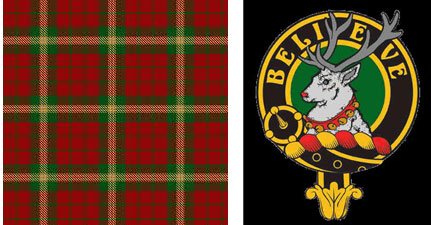 Did you know there is an official Santa Claus tartan?
Registered August 5, 2011, the organization known as 'Clan Claus' has its very own tartan available to member Santas. We here at USA Kilts are very proud that Rocky was named an Honorary Elf some years ago! Click here to learn more about how this group combines their love of Christmas and Celtic traditions.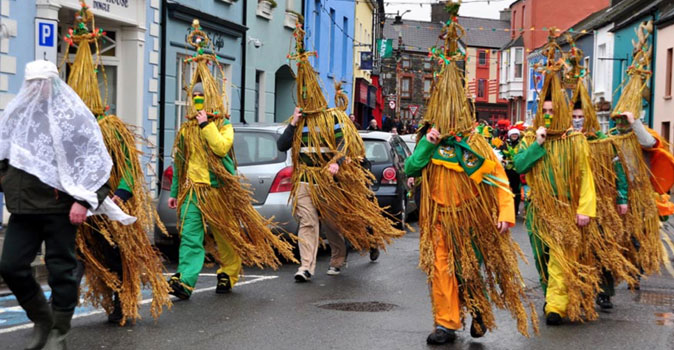 St. Stephen's Day - Dec. 26
St. Stephen's Day (Lá Fhéile Stiofáin) is an Irish national holiday, also known as the Day of the Wren (Lá an Dreoilín). It commemorates the life of St Stephen, a Christian martyr.
St Stephen was stoned to death sometime around 33 CE. Irish legend has it that he was betrayed by a wren while in hiding. A more localized legend tells of the ill-fated St Stephen's Day raid, sometime around 750 CE. Irish warriors sneaking up on a Viking camp were betrayed by the noise of a wren eating crumbs on a drum head. Either way, wrens got a bad rep from these stories and St. Stephen's Day once included the custom of boys hunting and throwing stones at the birds.
There is a strong mumming tradition for Wren Day in many parts of Ireland. Mummers, or "wren boys" often dress in colorful costumes of straw and ribbons. Traditionally, a killed wren would be tied to a stick and paraded about town and people would give the boys gifts. Today the gifts are usually money -- donations towards a public dance, a school or local charity. In some areas of Ireland, the boys may dress as girls or women.
St. Stephen's is also a traditional day for enjoying a seasonal Pantomime. Pantomimes are December season musical-comedy productions for the whole family, popular throughout the UK. Usually based loosely on fairy tales, they incorporate audience participation, cross-dressing, slap-stick, double entendre and references to recent events.
This is an ideal day to enjoy your Irish kilt and accessories!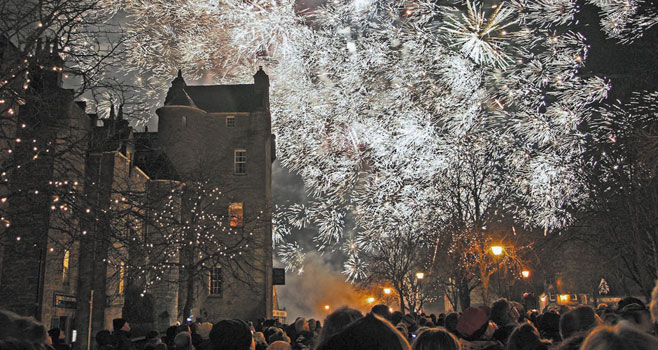 Hogmanay - Dec 31 - New Year's Eve
We actually have a whole blog post about Hogmanay. It's a HUGE deal in Scotland.
Briefly, Hogmanay (Scots: [ˌhɔɡməˈneː], English: /ˌhɒɡməˈneɪ/ HOG-mə-NAY) is the Scots word for the last day of the year and synonymous with the New Year. It includes celebrations the night of New year's Eve as well as continuing parties and socializing from New Year's Day through January 2, which is a Bank Holiday, or longer.